Since the
Art Martone of the Providence Journal's SoxBlog brought it up
, we figured we'd take a second look at the progress that has been made on our
eight point plan for salvaging the Jays season
.
Fire Gibbons

: Given that the Jays have pulled themselves out of their absolute freefall, it doesn't look like we'll see any progress on this item. And we'll give Gibby credit for pulling Litsch a few nights back, because it was the right decision, even if it was unpopular. Still, we're not backing down on this.

Status:

Incomplete

.


Send Zambrano to Syracuse, or even Dunedin:

Zambrano has been DLed, and will likely get the chance to properly ramp up through a reconditioning stint somewhere in the minors.

Status:

Check this one off as complete.


Designate Josh Towers:

Towers is still on the roster, but hasn't pitched in a week. So, good for the Jays for keeping him off the mound, but he's still taking up a roster spot. Time to make a decision.

Status:

Incomplete.

Move Janssen and Marcum into the rotation:

Marcum's in, and pitched well enough to win on Sunday. As for Janssen, we actually buy into the idea that he's of more use in the bullpen, so we're willing to admit that we were partially wrong on this one.

Status:

Complete, and an extra gold star for ignoring us when we were wrong.


Play Jason Smith, or return him:

It looks as though they've done both. Smith got back to back starts, went 2 for 7 with 3 Ks, and was placed on waivers. (He was picked up by Arizona yesterday, so bully for him.)

Status:

Complete.

Stop screwing around constantly with the batting order:

What can we say? While we are willing to allow for some reasonable movement, Gibby continues to overmanage the lineup.

Status:

Incomplete, with a big red frowny face.

Scour the wires:

Nothing to report yet. Then again, when the best name out there is Jason Davis, maybe it is best to keep your hands in your pockets.

Status:

Incomplete, but with a legitimate excuse. Maybe.


Hire Ken Macha:

In spite of our main man Martone's contention that we're not allowed to have Macha because he's done great work on NESN as an analyst, we still want him. We say, give us Macha, or give us Jerry Remy. The choice is yours, Red Sox Nation.

Status:

Incomplete.
So, here's where we net out: three items checked off the list, five to go. Not bad...we're hitting .375!
But to J.P., and all of our other fans in the Jays' front office, we say this: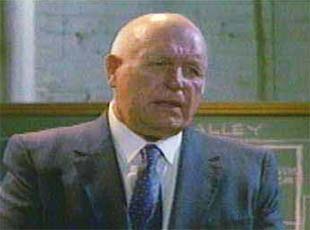 Ok, ramblers. Let's get ramblin'.